Documentary 2016 Overview

For the past two years we have travelled across the country, filming stories of those touched by depression and suicide. We are now excited to be at the end of this journey.

Death Is Not the Answer delves deeply into the complex, often misunderstood world of depression
and suicide. This PBS documentary features many of the nation's most respected mental health professionals. The film also offers enlightened thoughts of how we can find contentment and happiness through mind-body health, diet and music. We explore the world of firefighters, first responders and police, featuring Oakland County Sheriff Bouchard and Detroit Police Chief James Craig. Veterans and current military help us better understand PTSD and the difficulties living with life-changing injuries. In the end, the film offers hope and a much deeper understanding about depression and what leads to suicide.


The broadcast of this special two part series will debut on Detroit Public Television on November 11th at 8pm, with a community premiere screening in Royal Oak on November 6th at 5:30 PM. Click the above banner to purchase tickets.
Thank you,
Keith Famie
Executive Producer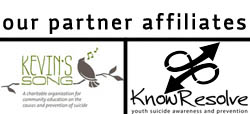 Executive Producers:
Phyllis and Harvey Sandler
Kevin's Song
John G. Kulhavi
Co-Executive Producer:
Rabbi Daniel Syme
Caring Community Leaders:
Anthony and Mary Schimizzi
Arthur and Gail Danto
Bill and Kristine Ritter
Blair Bowman
Bob Gillette
Cathy Radovich
Chief James Craig
Donald and Marjorie Family Foundation
Eric Seiger, D.O.
Jack and Annette Aronson
Joan Gabrielson
Kevin Parikh
Dr. Mehul & Claire Mehta
Nancy and Dennis Gershenson
Patricia Gill & Fred Schweihofer
Russell J. Ebeid
Sheriff Michael Bouchard
Ted and Annie Gillary
Tom and Sue Rau