Documentary 2016 Overview
For the past two years, we have travelled all over the country to speak with mental health professionals, young people, old people, military veterans, first responders, artists and musicians to better understand the questions;  What is depression?  Why do people die by suicide?  What can we do to help?
It's been a journey of ups and downs, filled with moving personal stories and groundbreaking science.  Now that production is coming to a close, we are preparing to launch the film on PBS in the state of Michigan in the fall of 2016.
We will be kicking off our post-production with a social media campaign the week of August 15th, when we will be filming our last major segment for the film.  We are featuring five wounded military veterans in order to learn about PTSD, traumatic brain injury, combat injuries and mental health.  Four of these veterans are amputees, and one is a blind Special Forces officer – all of them served in either the Iraq or Afghanistan conflicts.  By seeing their personal stories and interactions with each other as well as the local community, Death Is Not the Answer will delve into the importance of military camaraderie on and off the battlefield.  To learn more about these veterans, click here.
All week long, we'll be showcasing live updates through photo and video on Facebook, Twitter and Instagram, giving you a behind-the-scenes look at not just our production but also the intersection of mental health and the veteran community.
To see all of the trailers that we have created for this project over the course of the last two years, please click here.
Be sure to follow us on social media to get all the latest updates as we get closer to our first public premiere:
Thank you,
Keith Famie
Executive Producer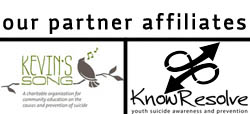 Executive Producers:
Phyllis and Harvey Sandler
Kevin's Song
John G. Kulhavi
Co-Executive Producer:
Rabbi Daniel Syme
Caring Community Leaders:
Tom and Sue Rau
Bill and Kristine Ritter
Jack and Annette Aronson
Nancy and Dennis Gershenson
Others First
Patricia Gill & Fred Schweihofer
Joan Gabrielson
Eric Seiger, D.O.
Kevin Parikh
Rocco Real Estate
Arthur and Gail Danto
Dr. Mehul & Claire Mehta
Bob Gillette
Russell Ebeid
Anthony Schimizzi